ERP Modules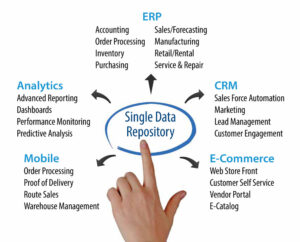 Manufacturing


Manufacturing Work Orders
Material Requirement Planning
Capacity Requirement Planning
Shop Floor Control
Product Quality
Finite Schedule
---
Understand your true cost of production to better manage your supply chain, improve workflow and reduce costs.  By automating production, planning, and quality control, the right ERP Solution can lower costs and increase profits.
Distribution


Customer Orders
Inventory Management
Warehouse Management
Supply & Demand
Sales Analysis
Forecasting
Customer Relationship Management
---
Integrate business processes and leverage real time data to optimize distribution efficiency and enhance performance.  Many distributors find themselves hindered by manual or disconnected processes, information delays, excess inventory, and purchasing information locked in the minds of individual employees.
Financials


Accounts Receivable
Accounts Payable
General Ledger
Fixed Assets
---
AR, GL, AP and Fixed Asset processing within a fully integrated ERP solution enables effective management of your business.  Accounts Receivable invoicing, credit terms, cash receipts and other accounts receivable tasks accelerates your cash flow and keeps your company financially strong.  The General Ledger is an important tool for keeping your accounts organized and providing proof of your expenditures. It can be used to correct errors in accounts, observe company activity, and can help you make wise financial decisions to better guarantee your company's future.  Accounts Payable software allows you to maintain and control every aspect of the management of your expenditures.  It turns the tedious and time-consuming management expenditure process into a manageable piece of your corporate puzzle.  With Fixed Assets, it's easy and cost effective to manage the complete fixed assets life cycle. The software helps to eliminate redundant data entry, increase accuracy, and reduce costs.  It enables accounting professionals to gain a solid foundation for all fixed assets and depreciation management.
Retail / Services


Retail POS
Service and Repair
Rental Management
---
Create a multi-channel buying experience for your customers that leverage marketing tools to increase sales and visibility.  Comprehensive turnkey solutions that optimize and centralize information across platforms.  By increasing productivity and streamlining retail operations, advanced retail software gives management teams the ability to move merchandise more effectively and eliminate costly delays.
Solutions are available through Dolvin Consulting. We take the time to look at and listen to your business needs. We leverage our industry knowledge and contacts to make sure you have the right solution to your challenges.